Sometimes I come up with silly ideas and then run with it. Today was one of those days. Someone said something, this lead to more, and my brain blurted out that it would be really neat if their were WordPress achievement badges, like you get in Girl Guides & Cub Scouts.
And then I cracked open my sketchbook because I am old school like that and prefer an actual writing implement to draw with. Here's the ones I came up with, and their descriptions. How many have you earned? 😉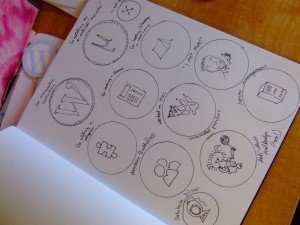 WordPress logo – earned by successfully installing WordPress manually, under 5 minutes.
Mu – for installing WordPress MU, or multisite (networks).
X – for editing the Codex usefully.
puzzle piece – for writing a plugin and hosting it in the repo
Screenshot – for creating a theme
Tent – for organizing a WordCamp
BP – anything Buddypress. 😀 Using it, writing for it…
Paw print – for working in trac, submitting tickets, and patches
Matt – the "I met Matt!" badge. Must include photo for verification.
SQL Diver – for diving into the database
Troll – the anti-matt troll badge. Given in rare cases, limited amounts. (actually, this is the only DE-merit)
Server – the server management badge.
Not shown:
the badge for bringing a friend over from Blogger to WordPress
being a Wordcamp attendee or speaker (airplane!)
being on WordPress TV
the GPL badge. Icon of grape kool-aid. ('nuff said)
a $ badge if you're a WP freelancer earning a living
What other ones could there be?
Disclaimer: I just came up with the idea as a joke, because it's funny. Tho the positive ones would be awesome if they really did exist. Alas, while my sewing skills are good, this would involve embroidery. 😉
If anyone decides to crack open Illustrator and make ones for blog sidebars, I would LOVE to see them! 😀
More suggestions:
– tshirt collector. Can you go a week wearing nothing but WordPress shirts?
– easy one for the noobs, 100 posts.
– book author
– dog food 😉
– dev chat participant